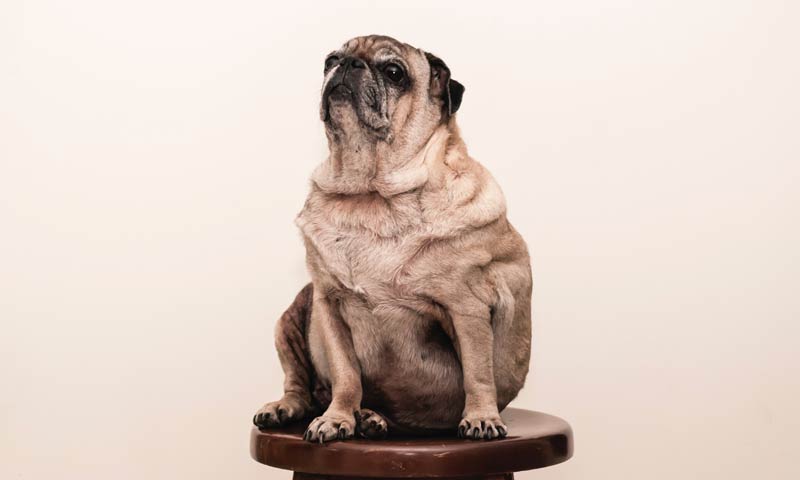 Dogs are vulnerable to joint problems and the sharp increase in obesity has dramatically raised the numbers of dogs affected by osteoarthritis. High risk breeds must absolutely keep their weight in check and act preventively.
---
Arthritis is afflicting an ever increasing number of pets today, most often middle-aged and senior dogs and cats. Surveys show that the number of dogs suffering with arthritis has nearly tripled in recent years and one of the main factors behind this pandemic is clearly excess weight.
According to the Association of Pet Obesity and Prevention 2013 survey, over 50% of dogs and cats in the U.S. are overweight or obese. That's almost 100 million pets that are more at risk for arthritis but also for for diabetes, blood pressure and other degenerative diseases.
Obesity overburdens the joints with excessive stress and it creates an instability. Once the joint becomes unstable, the bones begin to move abnormally and the cartilage starts to erode. This process will most often evolve until the cartilage finally disappears and the bones begin to rub against each other.
The good news is that a healthy body weight can help prevent joint damage from occuring in the first place, even for the breeds that are more at risk to developping arthritis. Research confirms the benefits of weight loss on mobility in obese dogs with osteoarthritis (OA). It appears that a modest body weight reduction of 6.10 – 8.85% produces substantial improvement in lameness and kinetic gait.
The two main factors involved with preventing and fighting obesity are exercise and diet. The first step to take is to stop making the pet fat by overfeeding him and pampering him with treats. There are also diet and exercise regimen that are appropriate for the pet's lifestyle and age. If the pet is already having issues with excess weight he must gradually get more exercise while consuming fewer calories. A good diet must be specially formulated to contain the appropriate caloric levels but also quality nutrients. Improving his meals will go a long way to improve your pet's happiness.
References:
1. The effect of weight loss on lameness in obese dogs with osteoarthritis, Marshall and al. Vet Res Commun. 2010 Mar 17; 34(3): 241–253.
2. Mark E. Epstein. Managing Chronic Pain in Dogs & Cats. Part 1: The Two Most Important Tools in the Treatment of Osteoarthritis. Today's Veterinary Practice. November/December 2013; 3(6): 20-23.
3. Ward, E. (2013, October). Fat Cats and the Fat Gap: Convincing Cat Owners to Begin a Weight Loss Program. VIN/AAFP Rounds presentation. Accessed on VIN January 14, 2014